It's Simple; Abandoned Cabling Revolves Around Two Points
Safety and Liability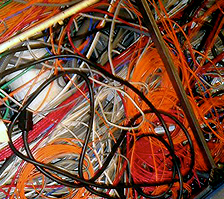 Taking an out of sight out of mind approach places a heavy liability burden on your shoulders. Abandoned cabling is a source for fueling fire, smoke and lethal toxic fumes that can incapacitate and kill.
Abandoned cabling is defined by the NEC to be… "Installed cable that is not terminated at both ends at a connector or other equipment and not identified for future use with a tag."
Abandoned Cable Removal Sounds Easy
Sometimes it is, sometimes it isn't; there may literally be miles of cable above your ceiling.
Some yours, some adjoining tenants, some active and some abandoned.
At first glance, it all looks the same.
We have been installing and removing abandoned cabling for years and can tell the difference and on those rare occasions when we are wrong, we have the ability to repair or replace any cables that were accidently cut, on the spot.