Demarc Extension, T1 Extension, DSL Extension
What's A Demarc And Why Do I Need It Extended?
Simply put, demarcation point or demarc is the area at your location where the vendor terminates their circuit.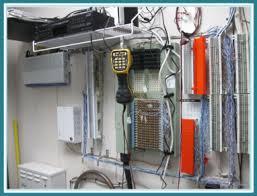 Beyond this point it is your responsibility to connect your network to that demarc.
A demarc must be extended to reach your wiring closet or MDF in order to provide connectivity to a data line, such as a T1, DSL, or POTS line provided to you by the telephone company or another vendor.
Depending on your needs and the layout of the site, cabling for a demarc extension can vary greatly.
We have experience installing demarc extensions in many environments, including warehouses, offices, schools, shopping malls, high-rise buildings…